No Pointer Flutter®
REFRIGERATION GAUGES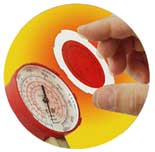 For the best gauge in refrigeration service today, start with the No Pointer Flutter®. Our exclusive encapsulated silicone dampened movement system eliminates pointer flutter caused by pressure pulsation. The dampening action also resists normal everyday shock; therefore, recalibration is rarely needed. If required, the movement can be easily adjusted. Two rivets increase dial strength preventing loose pivoting dials. It is guaranteed not to leak fluid or lose dampening action.
GAUGE SPECIFICATIONS
CASE: Polished Brass or Color Coded Plastic with patented design configured for Lens Inserts for different refrigerants
LENS: One Piece Polycarbonate
SOCKET: Brass
CONNECTION: 1/8" N.P.T. -2&frac12" Dial Size (1/4" Flare Available)
MOVEMENT: Precision Machined Copper Alloy with Specially Designed Encapsulated Silicone Dampening System insuring sustained accuracy and extended service.
TUBE: Copper Alloy Bourdon Tube
POINTER: Adjustable Black Finished Aluminum DIAL SIZE: 2&frac12"
DIAL FACE: Corrosion Resistant Aluminum Dial ACCURACY: 3-2-3% Per A.N.S.I. B40.1 Grade B


Compound


Preassure

Dial Size

Type

A

B

C

D

2 ½"

BM
Brass

2 55/64"

1 1/16"

2 7/8"

1"

2 ½"

BM
Plastic

2 55/64"

1 1/8"

2 7/8"

1"

Dimensions subject to change without notice.

Standard scales have black PSI scale with °F, R12, R22, R502 and R134a, R404a, R507a temperature scales in red. PSI-Kg/cm2 and PSI/kpa are available with °F or °C temperature scales. Bar with °C scales also available. Other scales and special configurations can be custom built to your specifications. For more information, contact us at 800/323-5111.

STANDARD DIAL RANGES RESSURE

Pressure

COMPOUND

OVERPRESSURE
300 PSI MAX.

DIAL RANGES

500 PSI

30" HG

to

120 PSI

NUMERALS PSIG

50 PSI

10"

10 PSI

GRADUATIONS PSIG

10 PSI

1"

1 PSI
For your copy of A.N.S.I. B40 standard gauge - pressure indicating dial type - elastic element, contact: The American Society of Mechanical Engineers, Three Park Avenue New York, NY 10016-5990 or call: 212/591-8500 Fax: 212/591-8501 www.asme.org