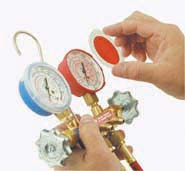 Easily convert your manifold to new refrigerants with Uniweld's
Temperature Scale Inserts. The inserts fit Uniweld's patented gauge cases.

Inserts are available for most refrigerants.
Durable, stable 20mil clear polycarbonate

Quick, easy refrigerant identification

Printed edges for easy lineup and fit

High Side (RED) and Low Side (BLUE) gauge indicators

Calibration Notches

Red circle blocks out unwanted refrigeration scales, but lets you see pointer

Vinyl carrying case keeps your scale inserts organized and ready for use in their own handy
pouch that's color coded for high and low side.